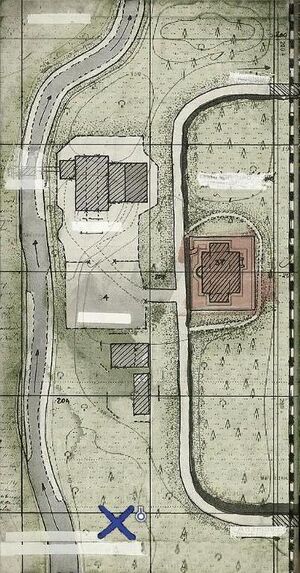 Villa Lhota is a villa located near the villages of Lhota and Broumov in Czechoslovakia. It is used by the Germans as command outpost following the uprising in the cities of Prague and Pilsen.
Description
Edit
The villa itself is an small central European house with a double story design. The main enterance to the villa is at the back. A small garden surrounds the house and is fenced off. Since it was abandoned by the original owners in 1938 following the German invasion, the villa was maintained by German command as an officer residence. Since 1944, however, the villa has been left derelict and is now overgrown. The house has been stripped of furniture and used as a Waffen-SS command post by one of Field Marshall Schorner's subordinates.
Opposite the villa is small sawmill. The structures of the camp have since been converted for military use, and now serve as garaged for German armored vehicles. Adjacent storehouses are use to hold German supplies and equipment. A small road runs between the house and sawmill, and the Liptakov-Pilsen Railway Line also passes through this area near the villa. A larger road leading to Pilsen is also located here opposite the sawmill.
This area around the villa is heavily guarded by German Waffen-SS troops, who, even though aware that Germany has already lost the war, are content on fighting to the last man. Some other German Army units are also operating nearby, and the Germans still hold the nearby villages of Broumov and Lhota, despite being slowly pushed back out of Lhota, where the American 57th Infantry Division under General Robertson's command is preparing for a final assault against Lhota and Broumov, but require a spearhead unit to lead the attack into Broumov.
Appearances
Edit
Ad blocker interference detected!
Wikia is a free-to-use site that makes money from advertising. We have a modified experience for viewers using ad blockers

Wikia is not accessible if you've made further modifications. Remove the custom ad blocker rule(s) and the page will load as expected.